Located in southern Utah, Zion National Park is the state's oldest national park. Spread over 230 square miles, it is famous for its beautiful waterfalls, incredible hiking trails, red cliff formations, and emerald pools. You can cover this destination in a single-day trip.
Zion National Park
Established in 1919, Zion National Park draws in over a million visitors. This beautiful national park has several red sandstone formations, beautiful canyons, and the meandering streams of the Virgin River. Although hiking is the main highlight of Zion National park, there are many other activities that you can enjoy with family or friends.
Do not miss the scenic drive running through Zion Canyon along the valley floor. It has some stunning viewpoints of the canyons and mountains.
Things to do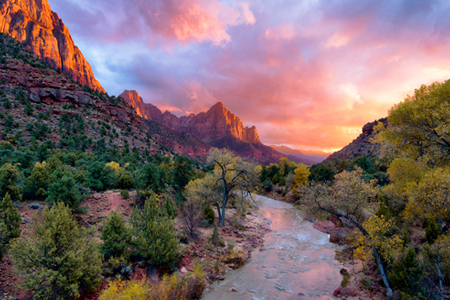 Go Hiking
Rock Climbing
Canyoneering
Cycling
Marathon
River Rafting
Horse Riding
Scenic Drives
Helicopter tours
Bird and Animal Watching
Museum Visiting
Jeep Touring
Fishing
Camping
HORSEBACK ADVENTURES
Venture off the beaten track and explore the unspoiled sections of Zion National Park on the back of a horse. These locally-led horse rides cater to experienced and first-timers. Get stellar views of the Court of the Patriarchs, the Beehives, etc.
CANYON JUNCTION BRIDGE
The Canyon Junction Bridge is a quick and recommended stop for all visitors. It is one of the premier sunset viewing spots in the park. This bridge is located nearby South Visitor Center and gives picturesque views of the Watchman.
Zion National Park Tour from Las Vegas
A visit to Zion National Park is a must for tourists to Vegas. Located 160 miles from Las Vegas, it takes around 2.5 hrs to reach the national park. Call Strip Key Limo at +1 (888) 539-0084 and book a luxury limousine for Zion National Park Tour from Las Vegas. Plan a Zion National Park day trip from Vegas to explore this beautiful spot.
Recommendation – On the way to Zion National Park from Las Vegas, do not miss out on the scenic Virgin River Gorge. It is an awe-inspiring drive on the road carved from the massive white rocks running parallel to the Virgin River.