Las Vegas is famous for its casinos, pubs, glitzy nightlife, parties, and disco party buses. It also has some of the best natural attractions in America – the Red Rock Canyon, Valley of Fire, etc. Just a few miles away from Vegas, you can find popular tourist spots like Death Valley National Park, Zion National Park, Hoover Dam, Grand Canyon National Park, etc.
Grand Canyon National Park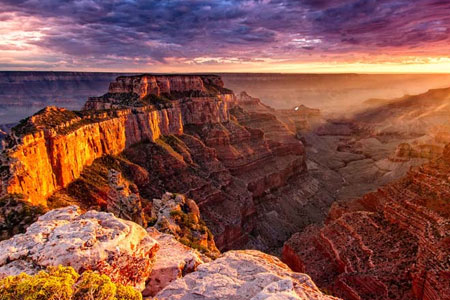 The Grand Canyon has been formed by the erosions of the Colorado River. It is widespread over an extensive land area. Due to this reason, it also has various entrances. This UNESCO World Heritage Site is located about 300 miles from Las Vegas. It has various attractions like the South Rim Ranger Programs, Backcountry Camping, River Boating, etc. It also has several viewpoints for different scenic views of the Canyon. 
One of the nearest cities, Flagstaff, also has numerous attractions like the nightlife, refreshing mountains, and much more. Flagstaff has other national parks and monuments nearby. So, you can use it as a home base to explore the Grand Canyon and the other nearby attractions. 
All these attractions make the Grand Canyon a perfect spot for a weekend getaway or a short vacation. But the distance from Las Vegas makes a day trip to the Grand Canyon a bit less of a perfect choice. Therefore, we advise you to plan at least a two-day trip to enjoy the natural beauty of the Canyon. You can decide the date and can make bookings accordingly. You can choose a vehicle from our wide-ranging fleet for a comfortable and lavish ride to the Grand Canyon and the nearby attractions as well.
At Strip Key Limo, your comfort matters the most to us. It is why we make sure that all our party buses have the best amenities such as a mini-fridge, led screen, sound system, etc. We can also manage pick-up and drops at the time and locations specified by you. All our party buses come with professionally trained and experienced chauffeurs. So, you don't have to worry about anything. All you need to do is – make the booking, board the bus and enjoy yourself with your friends and family!