Located 50 miles west of Las Vegas, Pahrump is a small town. Famous for its wineries, it is also called Nevada's Wine Country. It has three award-winning wineries – Pahrump Valley Winery, Artesian Cellars Winery, and Sanders Family Winery.
Sanders Family Winery Tour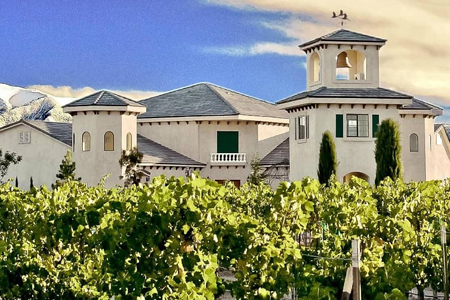 Sanders Family Winery is Southern Nevada's best-kept secret. Founded by Jack Sanders in 1988, it is a beautiful Tuscan-style winery. The Sanders family has been growing grapes for the past 35 years. Visitors can explore the vineyard, indulge in FREE wine tasting, and participate in wine bottling. It is a perfect picnic spot wherein visitors can bring their lunches. You will fall in love with the nature and surroundings at the vineyard.
Wine Tasting Timings: Mon-Sat 10:00AM to 5:00PM and Sun – 11:00AM to 5:00PM
Sanders Family Winery Tour is a private 5-hour tour that begins with pick up from your hotel in Vegas. You will be transported via a luxury chauffeured party bus with several onboard facilities like an LED screen, a music system, plush leather seating, a mini-bar, disco lights, and a restroom facility. This tour allows you to drink as much you want without worrying about driving back home. The chauffeur shall safely drop your back to your destination. Feel free to start drinking as soon as you are onboard, and you can continue your drinks even while returning.
Strip Key Limo is a reputed party bus service in Las Vegas that offers luxury party bus rentals. To make the most of your winery tour, rent one of our premium party buses.
Strip Key Limo is a premium party bus service in Las Vegas. You can rent one of our luxury party buses for Sanders Family Winery Tour. Whether you a wine connoisseur or a first-timer, this tour will offer you a memorable experience. For bookings, you can call our +1 (888) 539-0084 (Toll-Free).