When visiting Las Vegas, touring the famous casinos and pubs while experiencing the nightlife in a luxury party bus becomes a must-try experience. However, a visit to Las Vegas is more than just the nightlife. The surroundings of Las Vegas houses a lot of natural marvels and must-visit places. One of such tourist attractions is Hoover Dam.
Hoover Dam Limo Tour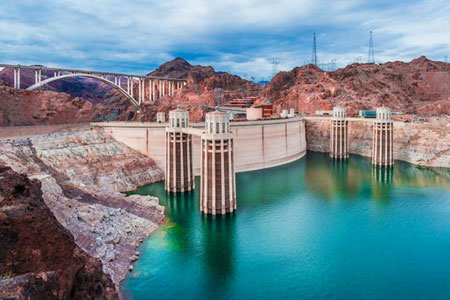 Located at the border of Arizona and Nevada, the Hoover Dam was built on the Colorado River to harness hydro energy. It took five years (from 1931 to 1936) to build the dam. The efforts of thousands of workers, the construction of an age bygone, and the scenic view are sure to make you a repeated visitor. So, whether you are a visitor to Las Vegas or a resident of the city, a trip to Hoover Dam is a must.
The drive to Hoover Dam is about 4 hours from Las Vegas. So, you should plan a two-day trip if you wish to spend considerable time there. However, a single-day trip can also be sufficient. You can also visit the Visitor Centre and go to the Power Plant Tours.
You can plan a trip to the Hoover Dam with friends and family without worrying about transportation. Our limousine or party bus (depending on what vehicle you choose) will pick you up from your location at the time specified by you and drop you off as well wherever you say.
The party buses come in different sizes. You can choose the vehicle from our fleet as per the number of guests you are expecting. Along with the party bus, you will have a professionally trained and licensed chauffeur. So, you don't have to worry about navigation, tolls, driving, and other such hassles. All you need is to sit and relax while enjoying yourself with your friends and family!